The Bartender had predicted Race 2 to be a damp squib and Akashvani to be a good homely love story worth a look. The Bartender was right on both the counts.
This week Kamal Haasan's Magnum Opus 'Vishwaroopam' is scheduled to be released along with Deepa Mehta's 'Midnight Children', Debutante Director Avinash Kumar Singh's 'Listen Amaya', K.C.Bokadia's 'Deewana Main Deewana. Let the show begin.
'Vishwaroopam' by Kamal Haasan has been in news right from Dec 2012 to date all for wrong reasons, first it was Kamal Haasan's decision to premier the movie on DTH platform, before its theatrical release. This had all the distributors and exhibitors fuming and threatening to boycott Vishwaroopam. That was some how sorted out and now it has been banned by the Tamil Nadu Government on ground of hurting religious sentiments. As of now with High Court allowing Kamal to release the film on Friday, things seem to moving smoothly for Kamal.
So lets head towards the movie. Vishwaroopam is a magnum opus of Kamal Haasan made by him, for him and of him. It follows the footsteps of greats leaders in this category like Mahaan, Razia Sultan, Roop Ki Rani Choron Ka Raja, Rajkumar and Devdas. Only Devdas by Sanjay Leela Bhansali managed to hit the groove.
Boasting very good production values and exotic shooting locales, the film lacks in all other departments. It is run of the mill story with Kamal living with his wife in US. Their marriage seems to run through some sort of treadmill and his wife hires a detective to find out what Kamal is upto. It turns out Kamal is actually a Muslim who has been using the decoy of being Hindu. What happens after is anybodies guess. Creating Afghanistan in Chennai is one of the reasons to watch the Art work at display
Kamal being Kamal Haasan, will be brilliant in the film with Rahul Bose giving him able support. Rest of the film is forgettable. If you are a KH fan, you might watch it, else let it go by.
Bar Tender predicts a pretty bad flop for KH in Hindi, however its south Indian version may do well as KH has a very huge fan base there.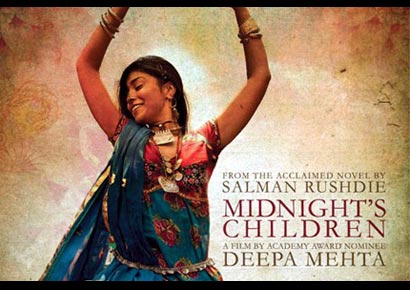 'Midnight's Children' made by Deepa Mehta, a Oscar nominated Director, is based on the novel by same name by Salman Rushdie. Ya! the same guy who had invited the wrath of Iranians.
If you have read the novel, you may know the story, its about two boys who are born on the midnight of India's freedom. One is Salim who has a gift of communicating with Telepathy and other is Shiva. The book was riveting as the climax opened doors in the last chapter. But in the film Deepa Mehta seems to have lost the plot with the trailer itself disclosing the climax.
Has Deepa succeeded in making a film of 2 hours out of a 600 page book is the only reason why you should watch the movie. This movie is made only for niche audience who go ga ga over such films.
Bar Tenders advice is a total avoid unless you are a true film buff/Deepa Mehta Fan/Salman Rushdie Fan/hater or a critic who has no other work.
Deewana Main Deewan - Made by K.C.Bokadia who gave us hit like Pyar Jhukta Nahin. The best thing about this movie is its title. After a long long time the bar tender noticed a very politically correct Bollywood title in this day and age of Kaminey, Race2, Matru Ki..., Ra1 and all those irksome names.
And that may the only thing about this movie which is worth mentioning. The story of the film has been told before n number of times. The hero lies to impress the heroine. What happens next, of course Govinda and PC stay together in a happy ending.
This film is a remake of successful Tamil movie "Priyamudan". Govinda looks old in the posters therefore expect him to look older in the movie. And what is PC doing in the film after doing a film like Barfi! is a Oscar winning question.
Bar tenders advice watch this movie if you don't have any work on week ends and you get bored sitting at home.
The film which the Bar tender has kept the last is the best.
Made by debutante director Avinash Kumar Singh, Listen...Amaya is expected to the shocker of the movie as far as box office earnings are concerned. The story is based on Amaya played by Swara who is in her teens and has to deal with a love story between her mother played by Deepti Naval and Farooq Shaikh.
It is a offbeat film dealing with emotions, relationships etal.
Bar tenders advice : watch this film, you will notice you don't have to be right every time to live a life happily.
There are two more films which are being released this Friday those are Mai and Kadal. One is in Marathi and one in Tamil. While Kadal is made by Mani Ratnam and sure winner, Mai starring Ashatai is worth giving once over.
Bar tenders advise : Too many cooks spoil the broth, too many drinks make mandola human, but will too many films make any money?