The last week saw release of two really good films, one for story and other film just for choreography. Special Chhabbis, as the Bar Tender has already reviewed 14.02.2013, is a a special movie with all the trappings of a bollywood movie. True suspense, good story and very good acting from the cast has won the critics and the fans alike. Akshay has created a different fan club of fans for him with this film.
ABCD is a spectacular 'Dance' film. Never mind the story, the film is worth its pinch of salt just for the dance sequences. A film made specifically for dance lovers, the groves and the choreography is a must watch for dance aficionados. Beautifully directed by Remo, this one is going to be a hit just for its dance sequences. Remo seems to have poured his soul into making this film. The film is going great guns and may be a hit just for its dance like Aashiqui was hit for its songs.
The films releasing this Friday are Abhishek Kapoor's 'Kai po che'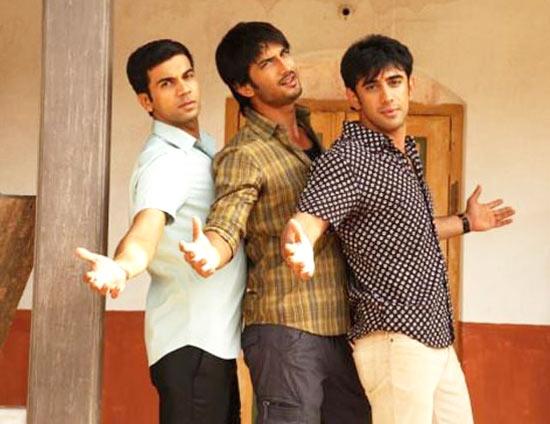 Based on a novel by Chetan Bhagat called 'The 3 Mistakes of my Life'. A story of 3 restless youths in 2000's, the story demands sincere acting from the 3 protagonists of the film, Sushant, Amit and Raj Kumar. In a country were there are only three idols, God, Cricket and Bollywood, this film too centers on cricket. It has the general feel good factor about it.
Abhishek Kapoor is expected to give a good film based on this story. With the Rock On!! style direction and superb feel he has about today's teenagers, Abhishek is looking to build a niche among the story tellers with his own brand of Indian Youth Films. 'Kai po che' is incidentally the 1st Indian Film to be featured in World Panorama section of the 63rd Berlin International Film Festival on 17.2.2013.
The Bar Tender recommends this movie to you.
The next film to be released is Anand Kumars 'Zila Ghaziabad'
This is a out and out action thriller from Anand Kumar. Based in the Uttar Pradesh of 1980's, this film stars Sanjay Dutt, Arshad Warsi and Vivek Oberoi. Interpreting 'Munnabhai' and his sidekick 'Circuit' in different mould will be a challenge for the director and it will be hard to digest for the viewers. Based on Gang wars of Ghaziabad between the two 'Gujjars' played by Vivek and Arshad, the character of Cop is played by Sanjay Dutt.
Sanjay Dutt seems to be intent on breaking Jagdish Raj's record of acting in largest number of films as a Inspector. Sanjay again dons the Cap of Inspector Pritam Singh Chauhan in the film. Expect epic gang wars, real desi language and high octane scenes from the film.
This may be another one of the suprise hits of 2013.
Bar Tenders advice : Remo don't go for a sequel to ABCD, and if you go for one name is ABCD Sala